Announcing Holopin at Hacktoberfest 2023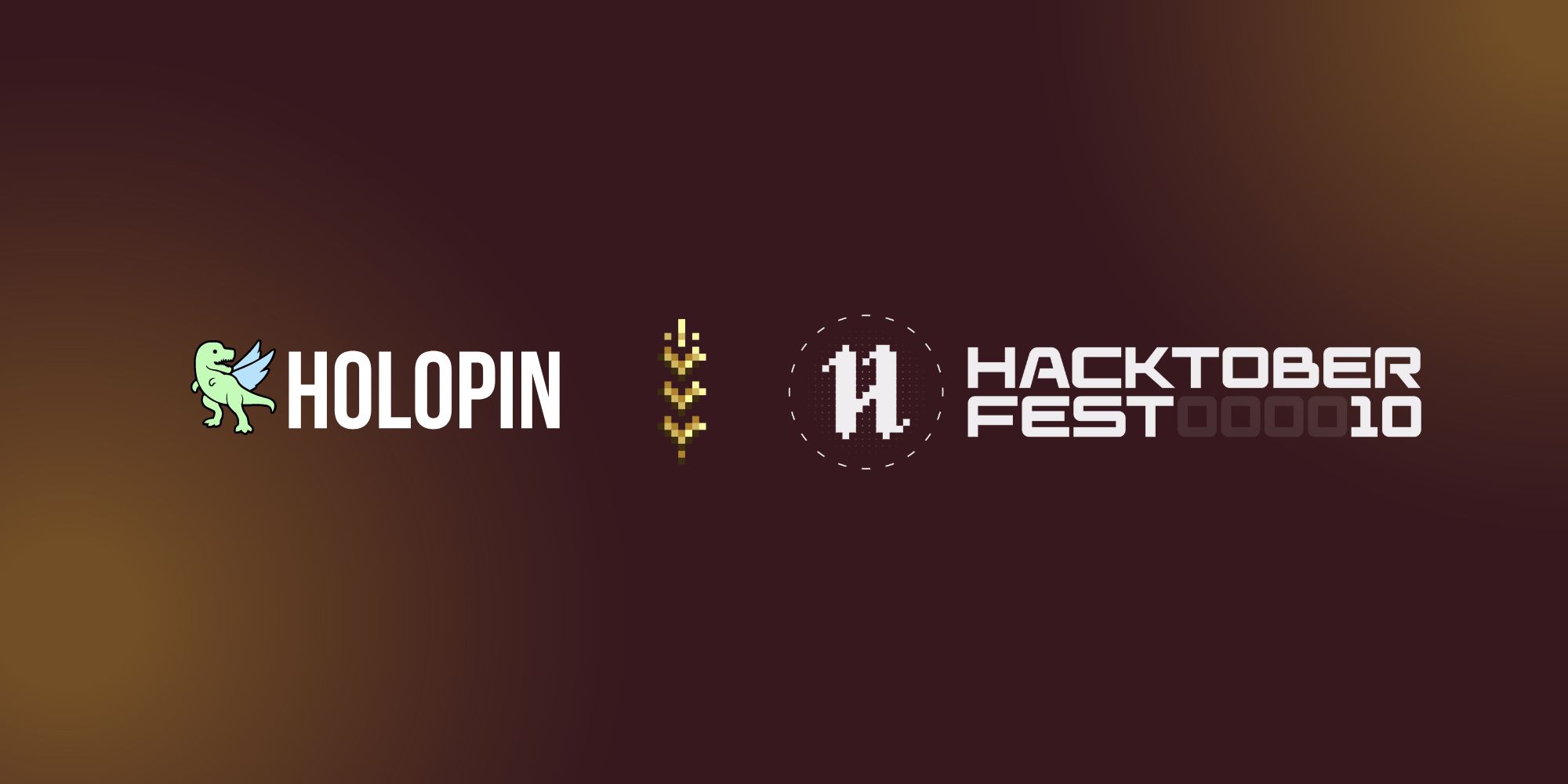 Holopin — the official digital badge partner for Hacktoberfest 2023
Hello Holopin community!
It's that magical time of the year again – October, the month of Hacktoberfest! As many of you might remember, last year we teamed up with DigitalOcean's Hacktoberfest to create a splash in the developer community. Holopin digital badges resonated with developers across the globe, bringing a gamified experience to open-source contributions. As the virtual confetti settled, we were overjoyed to see the significant impact our badges made.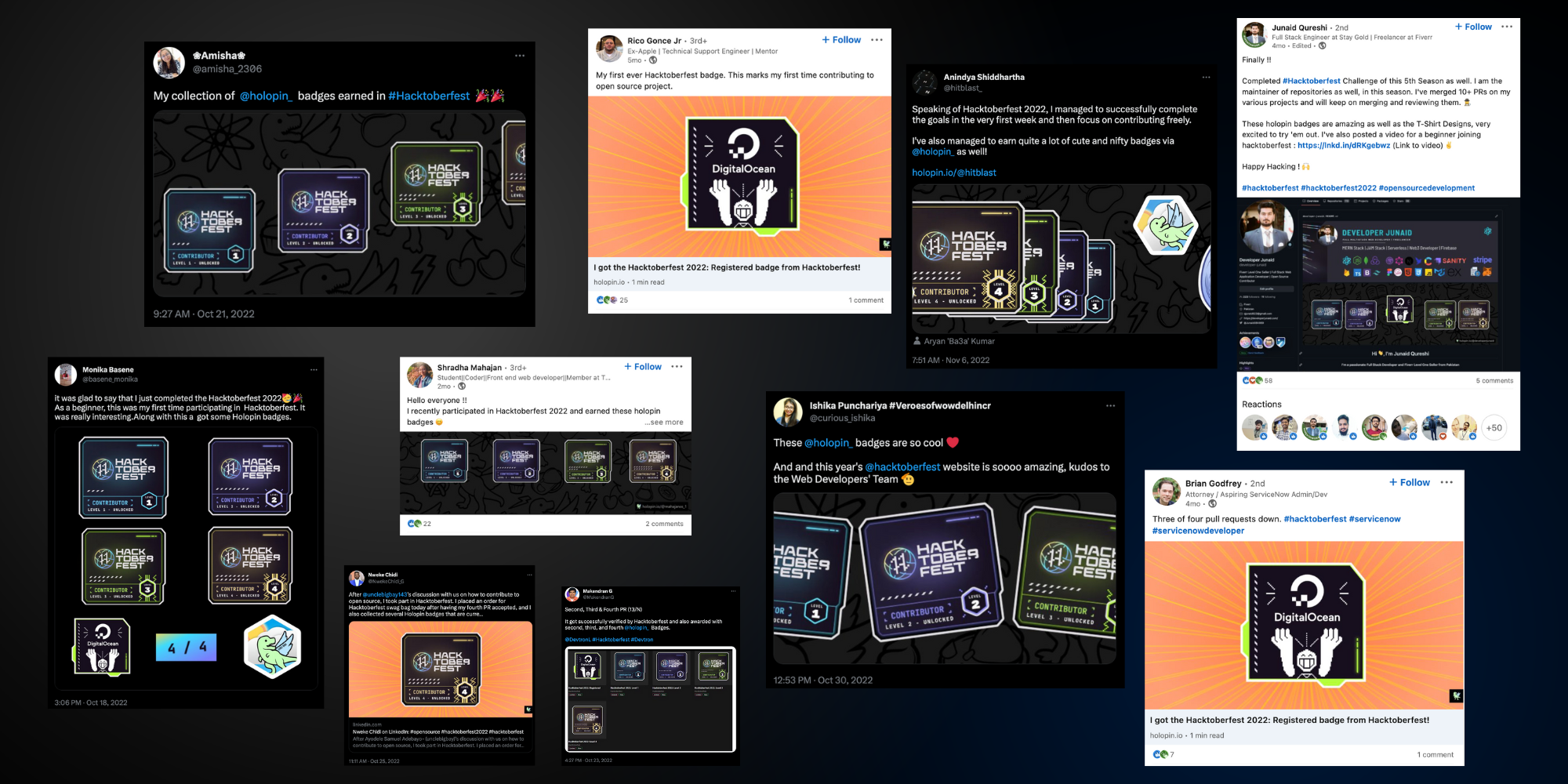 As Hacktoberfest embarks on its 10th year, we are thrilled to announce our continued partnership with DigitalOcean. While there have been a few changes in this year's event, our commitment to delivering an extraordinary digital experience remains unwavering.
What's New This Year?
1. Personalized Hacktoberfest Avatars
Remember the charm of dressing up your Club Penguin or accessorizing your Neopets? At Holopin, we're all about rekindling that magic! This year, as you make more contributions to Hacktoberfest, you'll unlock delightful accessories for your very own Hacktoberfest Avatar. This avatar will not just represent you, but it will also be the centerpiece of each badge you earn. So, as you contribute more, your avatar becomes a vibrant reflection of your achievements!
2. All-Virtual Reward Kits
With a heart full of gratitude for your amazing contributions, we've curated an exclusive all-virtual Reward Kit. Winners will receive a unique bundle of partner perks, all integrated seamlessly into the Holopin experience. No shipping, no customs - just pure digital delight.
3. A Special Animated Badge for The Champions
Every year, we are amazed at the dedication and passion of our contributors. To celebrate this relentless spirit, winners this year will be graced with a special animated badge that's not just a symbol of accomplishment but also a piece of digital art that's alive!
4. Group Badge Board – Celebrate Together!
One of the most enchanting features this year is our Group Badge Board. All winners' badges and avatars will be showcased on this communal board. It's a way of honoring everyone's achievements, and when you look at this board, you'll see the heartbeats of a community that's passionate about open source.
Reliving 2022: A Quick Recap
Last year, our badges became a viral sensation with developers sharing them across platforms like Twitter and LinkedIn. Over 50,000 developers claimed their Hacktoberfest badges, significantly boosting participation and engagement. Our badges became more than just digital pixels – they became a symbol of accomplishment, camaraderie, and the spirit of Hacktoberfest. Read more about our Hacktoberfest 2022 case study here.
We're proud of how seamlessly our system integrated with Hacktoberfest, handling a massive influx of dozens of thousands of developers without a hitch. The overwhelmingly positive response from developers validated our mission at Holopin: to bring joy and recognition to milestones, big or small.
Looking Ahead
As we gear up for Hacktoberfest 2023, our excitement is palpable. Our team is working tirelessly behind the scenes, ensuring that this year's digital badges are even more memorable.
Whether you're a returning participant or this is your first Hacktoberfest, we invite you to be part of this global celebration. And while you're at it, flaunt those Holopin badges with pride!
Lastly, a huge shoutout to DigitalOcean, especially the brilliant team behind all things Hacktoberfest, for entrusting us again. Also, our sincere appreciation goes out to all the sponsors and partners that make Hacktoberfest possible.
Happy hacking and see you in October!
---
From all of us at the Holopin team, happy pinning!
✨🦖✨🦖✨