Introducing Digital Badge Subscriptions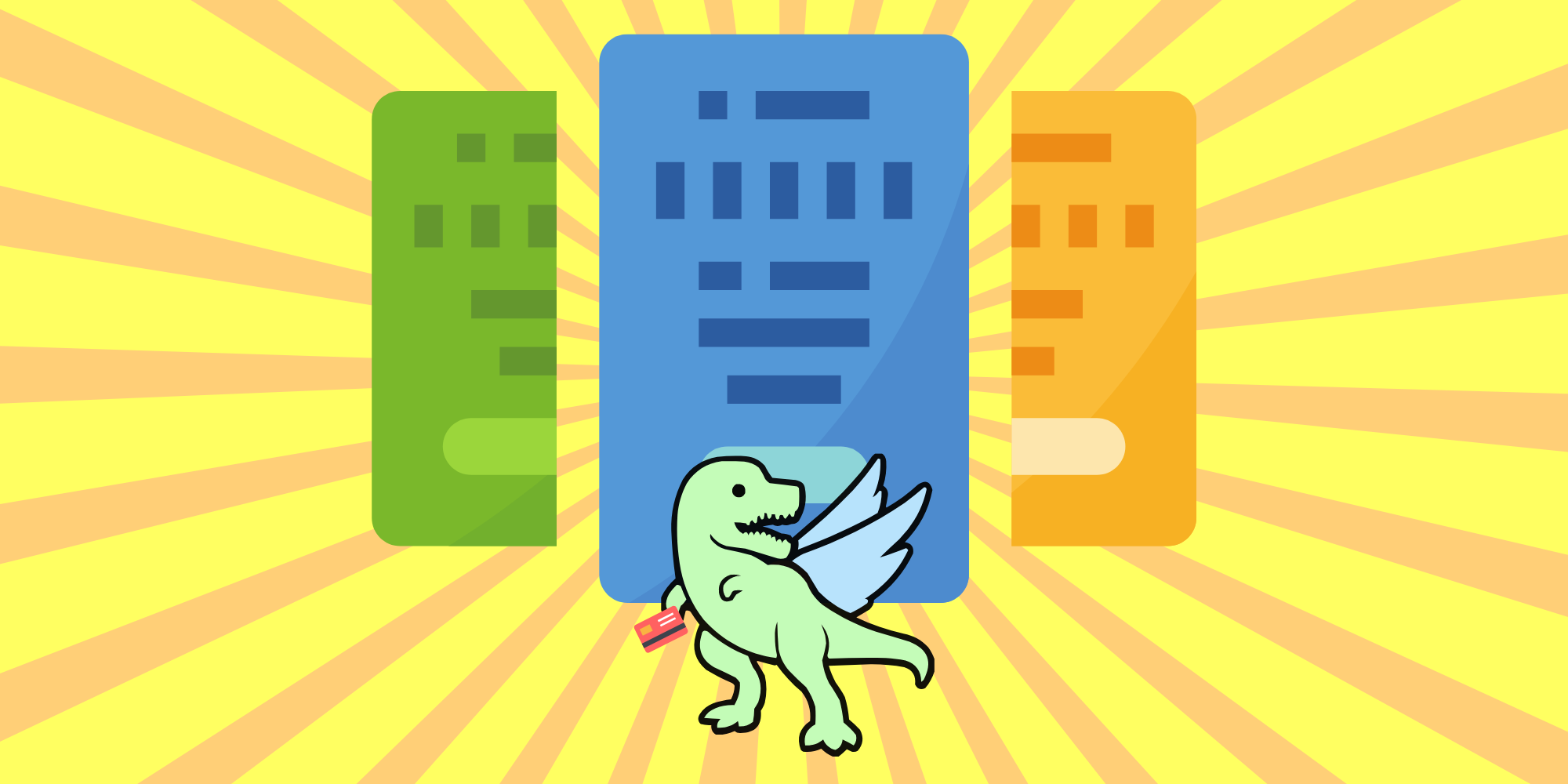 Introducing Holopin Subscriptions
We are thrilled to announce that Holopin is now officially open to every organization! 🎉 We have been working hard to streamline our processes and introduce new features that make creating and collecting digital badges even more exciting.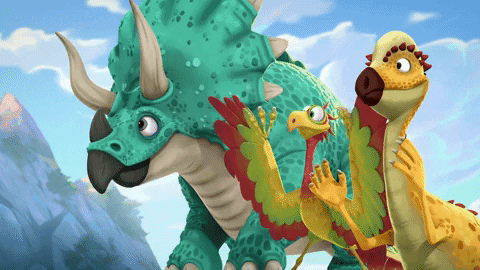 At Holopin, we believe that digital badges should be accessible to everyone, from small startups to large enterprises. That's why we've created three different subscription plans that cater to a wide range of organizations.
🦖 Starter Plan
Our most affordable, entry-level plan is designed for individuals and small teams who want to create a new badge program. Includes 1 Admin User for your organization, 5 Badges, access to GitHub & Discord integrations, and a number of UI features to help you issue badges like a legend you are.
🦄 Team Plan
With five seats, ten Badges, Holobytes, and Evolving Badges, this plan is perfect for teams wanting to fully integrate digital badges into their culture. In addition to all integrations, this plan includes Holopin API access and is designed for organizations that want to take their badge program to the next level.
🌎 Holopin for Enterprise (Enterpresaurus)
We've got all the large teams covered too! Our custom tailored plans come with increased badge and seat limits, SSO, team management, priority support, enterprise-grade SLAs, and so much more. For customers on air-gapped infrastructure, we're able to offer a combination of self-hosted Holopin and our cloud-based services to create a seamless experience for your badge earners, and enabling them to keep their rewards forever. Just like laptop stickers.
To learn more about our Enterprise offers, reach out to our sales team and we'll be delighted to help you out.
Bonus: If your company currently uses a different badging solution, we'll help you migrate to Holopin. Free of charge. 🤯
How to Sign Up
Signing up for Holopin is easy! Just follow these simple steps:
Visit our Pricing page
Choose your subscription plan and provide your billing information
Complete your organization's profile and upload your first badge (SVGs and PNGs are supported)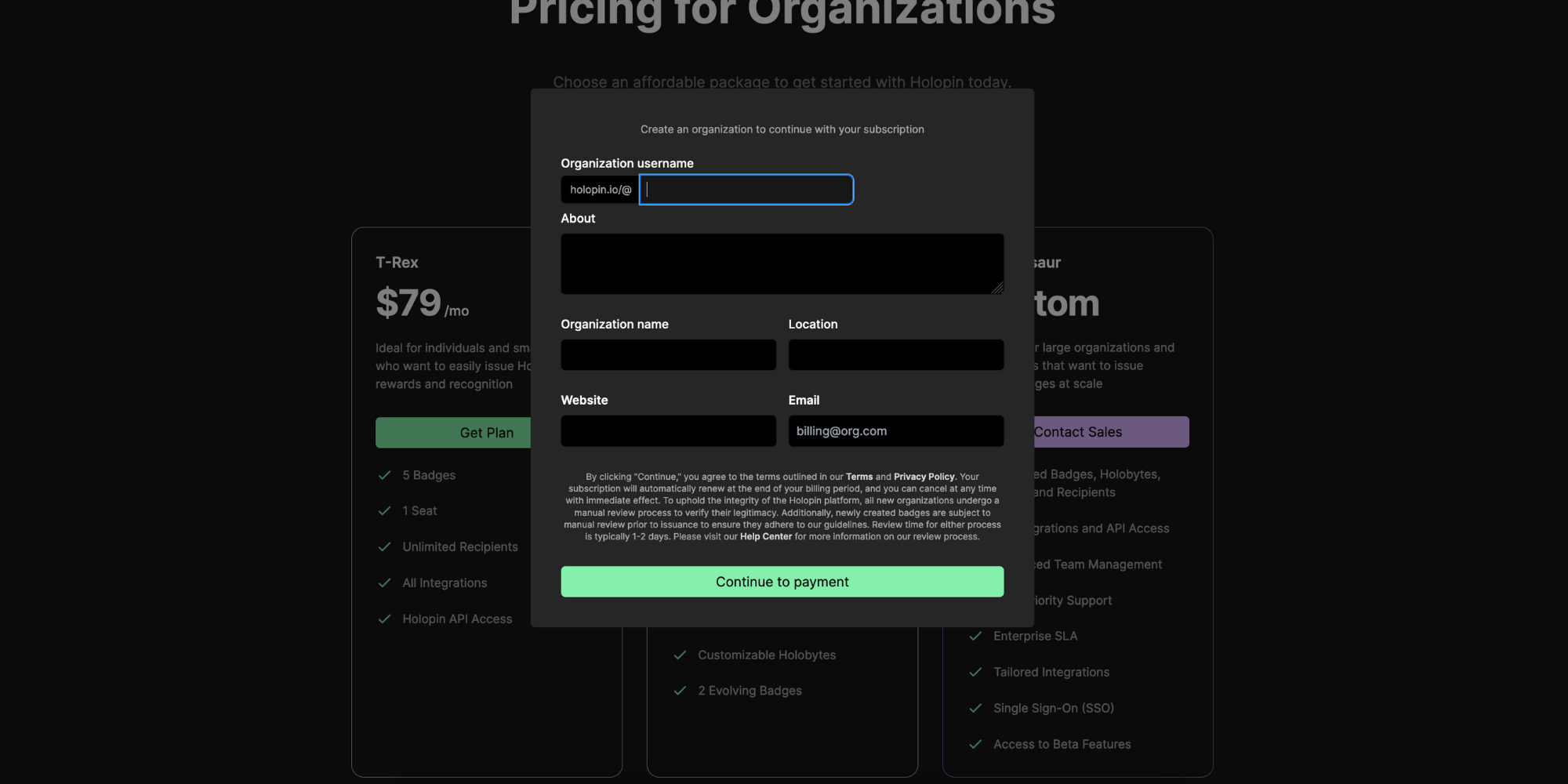 That's it! Once your organization has been verified and your badge(s) have been approved, you'll be ready to start issuing badges to your heart's content!
What Else is New?
In addition to our subscription plans, we have also introduced some new features that we think you'll love:
📖 Docs Page. We have created a comprehensive documentation page that explains everything you need to know about creating and issuing badges on Holopin.
📊 Status Page. We now have a dedicated status page that provides real-time updates on the status of the Holopin platform. This ensures that you are always informed about any maintenance or downtime.
❓ Help Center & FAQ. We have compiled a list of frequently asked questions to help you get started with Holopin. If you have any other questions, please don't hesitate to contact our support team.
🕵️‍♀️ Org Verification Processes. We understand that trust is essential when it comes to digital badges. That's why we've introduced a simple verification process that allows organizations to verify their identity and ensure that their badges are legitimate.
🧐 Badge Review Queue. To maintain the integrity of the Holopin platform, we have introduced a badge review queue. This ensures that all badges issued through Holopin meet our quality standards.
A little sneak peek
We have some exciting new features in the works, including some more integrations, a recipient-facing API, and new design features.
In the meantime, why not sign up for Holopin today and start creating and collecting digital badges like a pro? We can't wait to see what you come up with!
---
From all of us at the Holopin team, happy pinning!
✨🦖✨🦖✨