Holopin Hobby: Create Digital Badges for Free!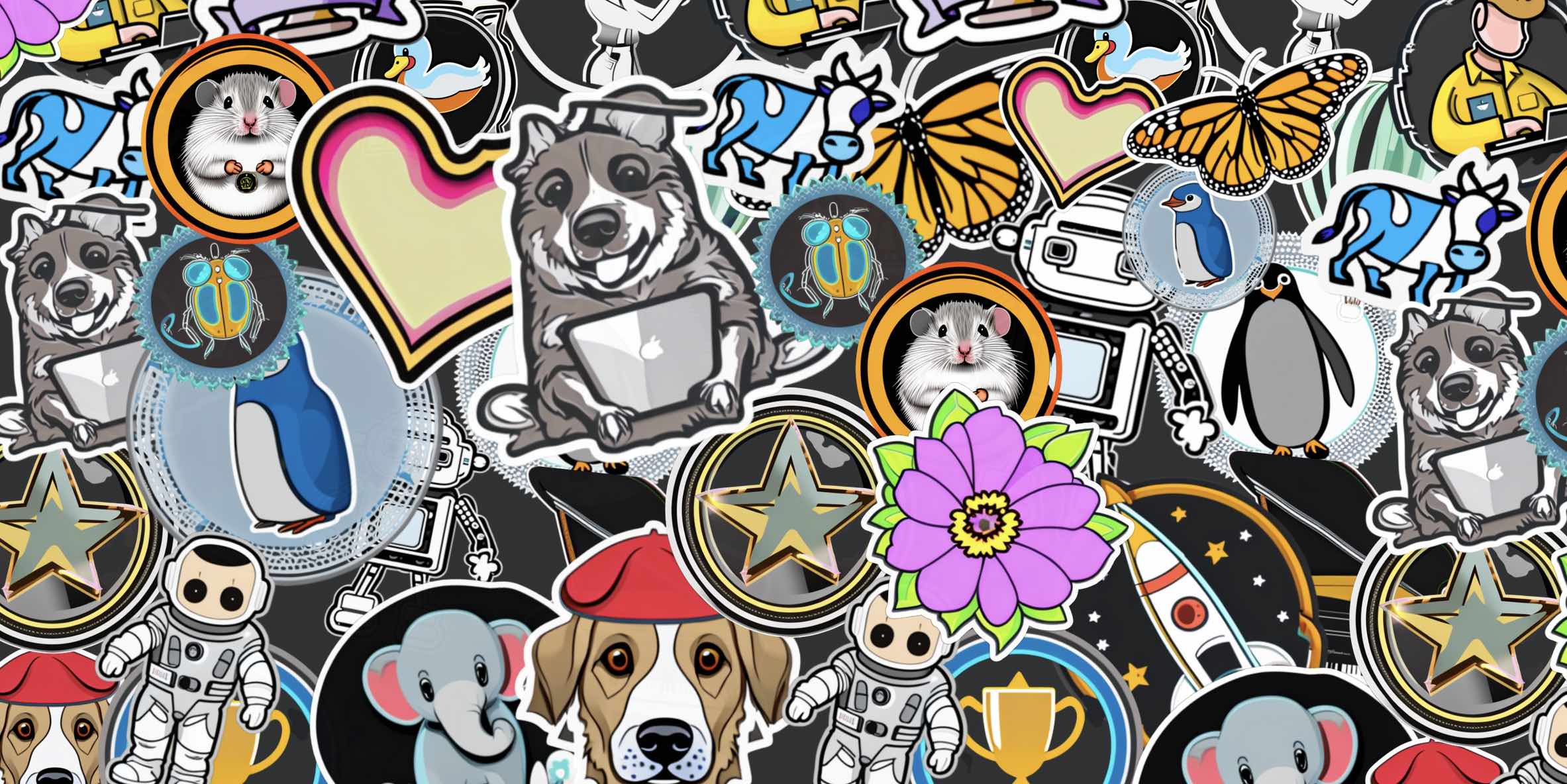 Attention fellow badge enthusiasts!
We've heard you loud and clear! We're super excited to bring you Holopin Hobby, our new Free Plan, perfect for individuals who want to create and issue their very own digital badges. This much-requested feature is here, hot on the heels of our paid subscription plan launch.
Free Personal Badges for Everyone
Holopin Hobby invites you to jump into the digital badge world for personal branding or just plain fun. We're all about making this cool tool available to everyone, and our free plan is a big step toward that goal.
Give Holopin Hobby a whirl, and enjoy the ease of creating badges for non-commercial use, like celebrating personal achievements or showing off your personal brand. Best of all, you can try out the platform and have a blast creating badges without spending a dime!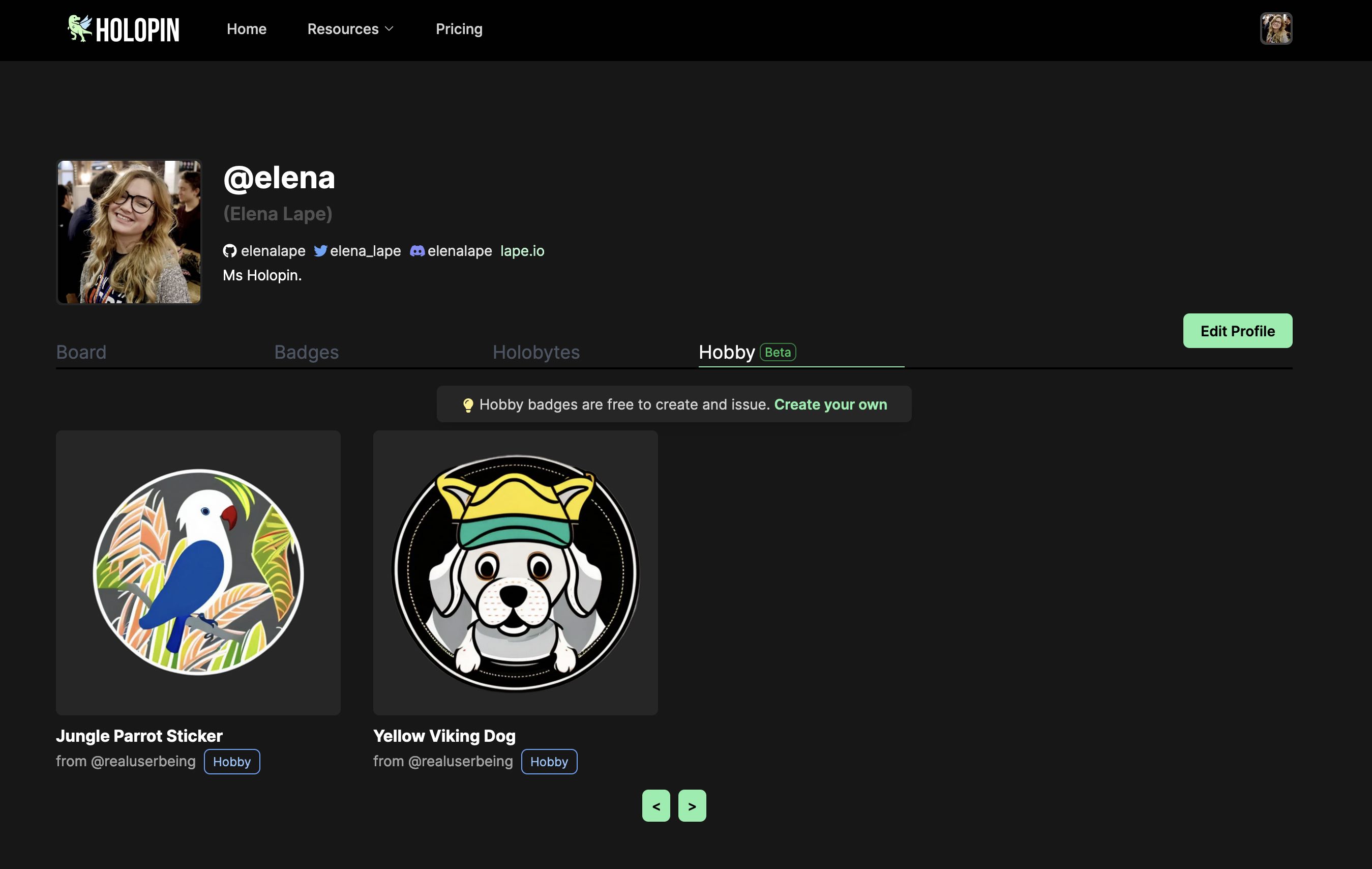 All the Hobby badges you have received will live right on your public Holopin profile.
Hobby Badge Benefits
What can you do with Holopin Hobby? Here's a quick rundown of the features you'll get with your personal Holopin account (no need to subscribe anywhere!):
🎨 Create up to two badges - use your own image (just make sure you have the rights to use it!)
💌 Issue badges via email, QR code, or URL - spread the badge love to friends, fam, and coworkers
🚀 No limits on badge numbers - seriously, share with as many people as you like!
🌐 Post on social media - let everyone you've sent badges to show off their shiny new badges too
💡 Test the waters - get a feel for the platform before committing to a paid plan
You can create your first badge by heading over to holopin.io, signing in, and navigating to Hobby Badges from the dropdown menu in the top right corner, where your profile picture is.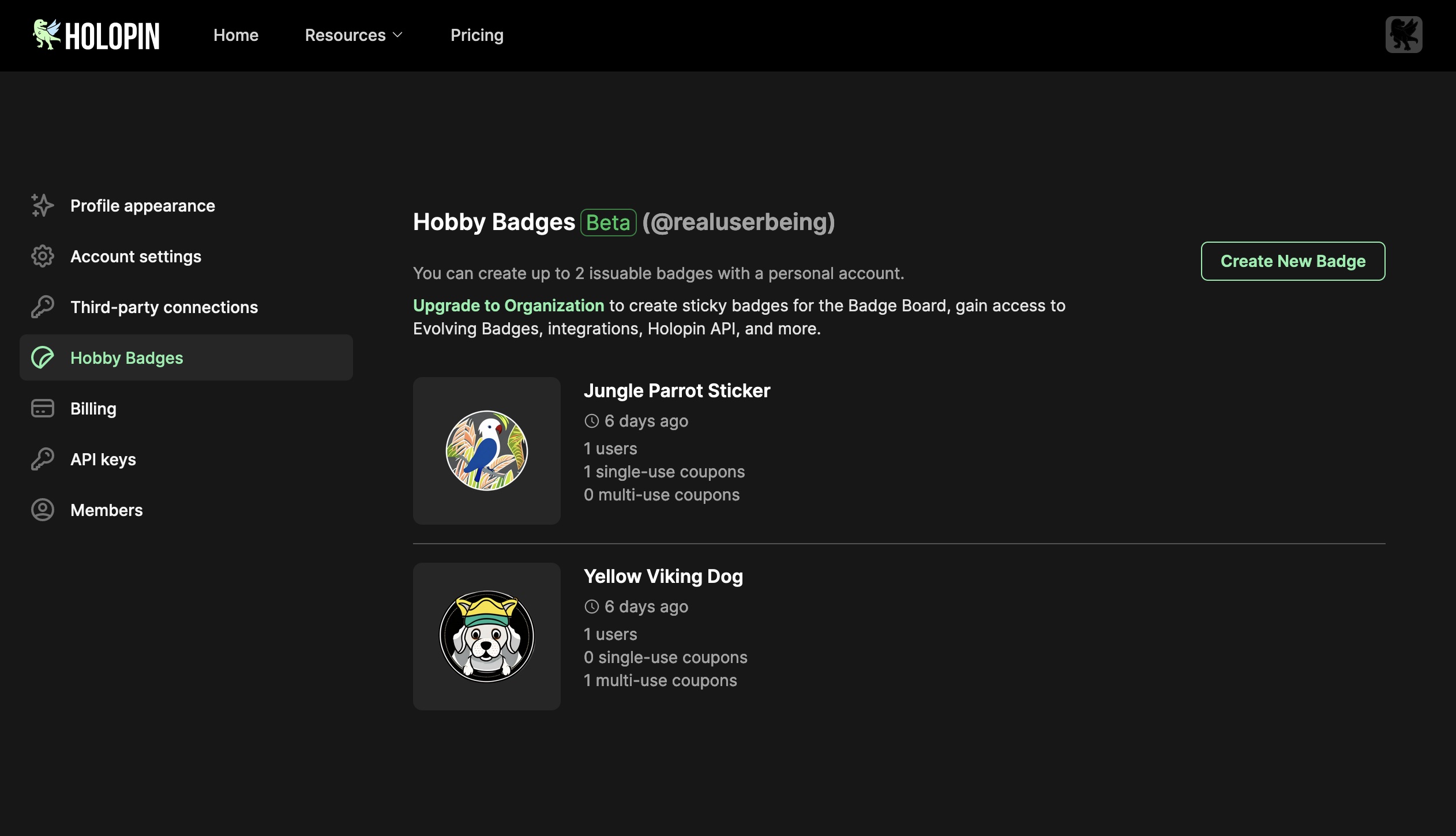 Keep in mind, Holopin Hobby is for non-commercial use only. There are a few limitations with Hobby badges: you can't add them to your board, use the Holopin API or supported integrations for issuing, and no Holobytes or Evolving Badges — you'll need to upgrade. But hey, it's free! So, go ahead and have fun with it!
As always, all badges will go through a review process before they can be issued. Content moderation FTW!
Hassle-Free Issuing: Email, QR Code, or URL
Holopin Hobby makes it simple to issue your badges through email, QR code, or a multiple-use URL. Sharing your badges with your friends, family, and colleagues has never been easier.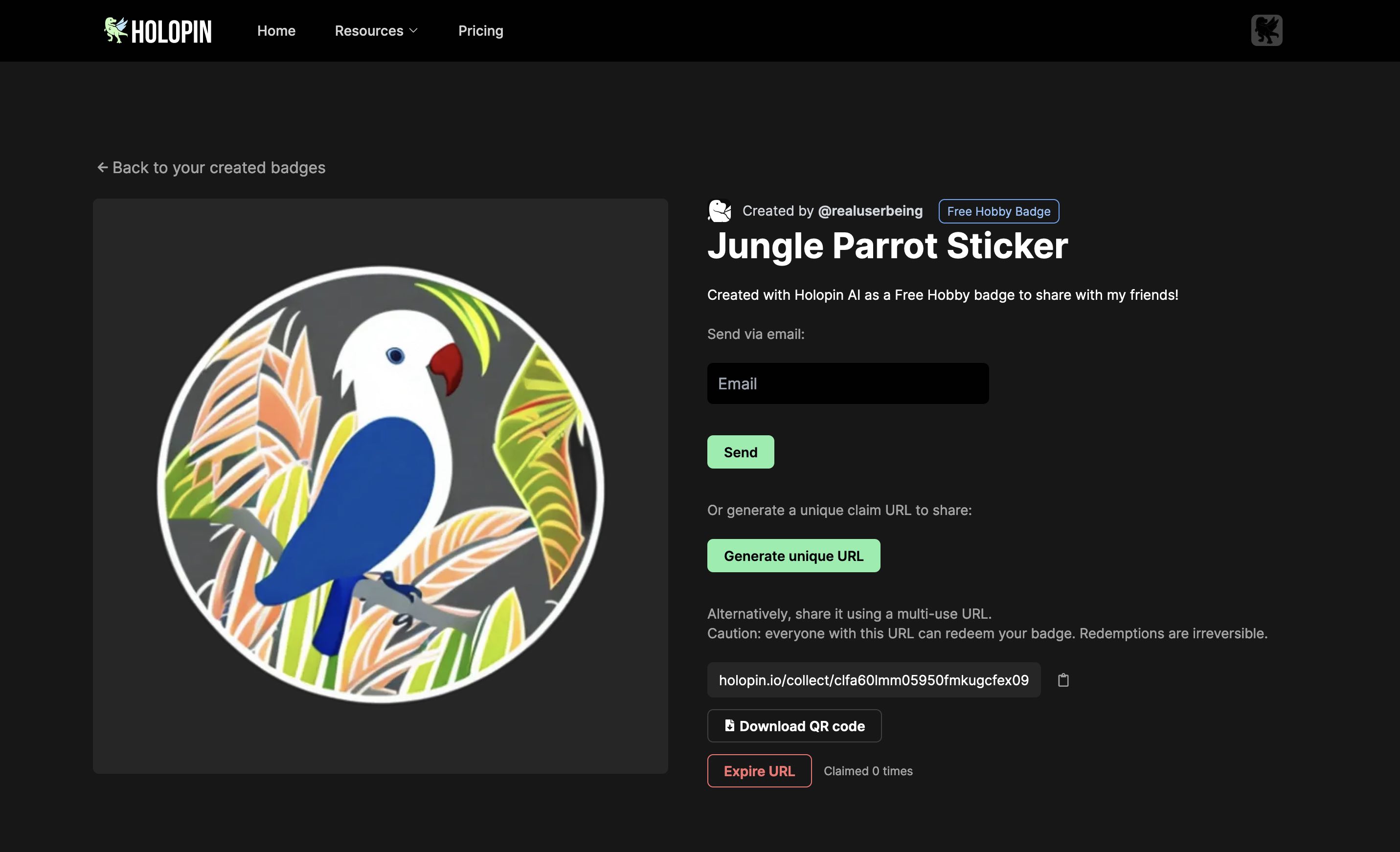 Flaunt Badges on Socials
While you can't stick Holopin Hobby badges to your board, there's nothing stopping you from sharing them on LinkedIn, Twitter, and other social media platforms. Give your friends and followers a chance to show off, and encourage them to get their own!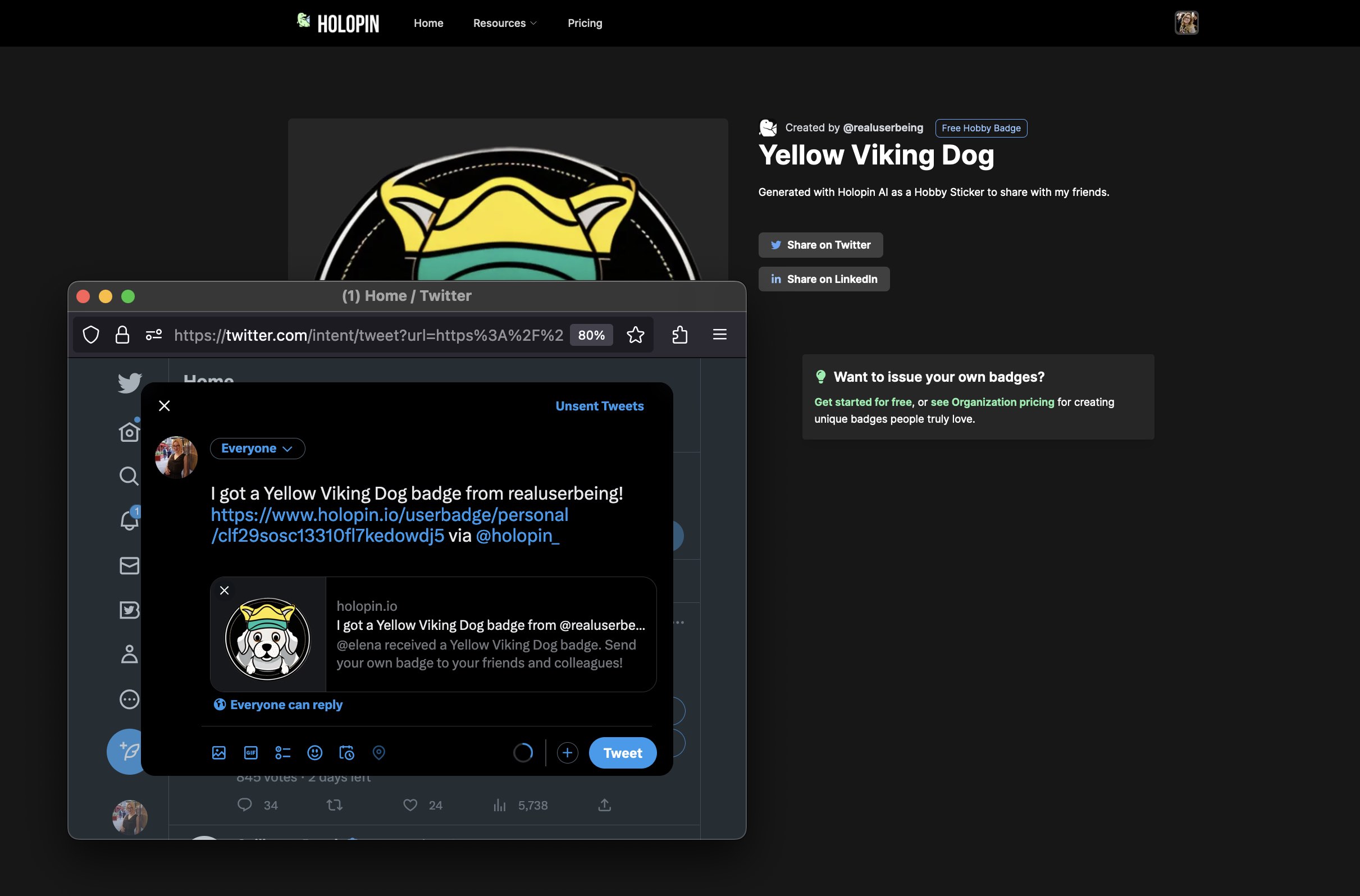 Give Holopin Hobby a Spin!
Ready to dive into the world of personal digital badges? Head over to holopin.io and create your first Holopin Hobby badge today!
---
From all of us at the Holopin team, happy pinning!
✨🦖✨🦖✨